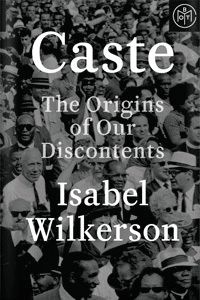 FCUCC Book Study continues. On Tuesday, January 12 we will begin a new book study using "Caste" by Isabelle Wilkerson.
Synopsis : The Pulitzer Prize winning, bestselling author of The Warmth of Other Suns examines the unspoken caste system that has shaped America and shows how our lives today are still defined by a hierarchy of human divisions. As we go about our daily lives, caste is the wordless usher in a darkened theater, flashlight cast down in the aisles, guiding us to our assigned seats for a performance. The hierarchy of caste is not about feelings or morality. It is about power. Which groups have it, and which do not. In this brilliant book, Isabel Wilkerson gives us a masterful portrait of an unseen phenomenon in America as she explores, through an immersive, deeply researched narrative and stories about real people, how America today and throughout its history has been shaped by a hidden caste system, a rigid hierarchy of human rankings. Beyond race, class, or other factors, there is a powerful caste system that influences people's lives and behavior and the nations fate. Linking the caste systems of
You are invited to join us at 10:00 for this zoom study. To join all you have to do is contact Pastor Gary at garyb@fcucc.com or call the church office an let him know you want to be a part of the sturdy. Each participant will be responsible for purchasing their own book.